TESSY OFFICIALLY PART OF THE NYS APPRENTICESHIP PROGRAM
Four Individuals Sign-on with Tessy for Apprenticeship Program
Skaneateles, New York, February 16, 2023— Tessy Plastics Corp. officially welcomes four individuals into their Apprenticeship Program. Tessy is now a recognized by the New York State Department of Labor as a participating company offering a state apprenticeship program.
There is a national shortage of trained and certified skilled tradespeople at this time. Many occupations such as toolmakers, electricians, plumbers, and HVAC positions are presenting high demand with very short employment numbers. Businesses in New York State are challenged to find technically trained people that are qualified to meet the project demands. "For years while most High School academic focus has been towards college attendance, skilled trade preparation has languished as the ranks of certified journeymen, who are the trainers for the next generation, are aging and retiring leaving a gap in the manufacturing and fabrication pipelines," said Tessy Apprenticeship Mentor Jim Weishaar.
The four individuals to officially commit to the New York State Department of Labor Apprenticeship Program with Tessy are as follows:
Brett Schmutzler, who is a 2nd generation Toolmaker with more than eight years of trade related experience at Tessy. Schmutzler joined the team with welding and manufacturing experience through BOCES training in Basic & Advanced Precision Machining, CAM, and Technical Drawing & Design.
Matthew Somes received BOCES training in High School after which he attended Onondaga Community College where he completed classes in Machining, Metallurgy, Engineering Drawing, and Manufacturing Processes. He has worked at Tessy in the tool room for more than eight years and has completed online classes at NTMA (Nation Tooling & Machining Association) for Mathematics, QC/SPC Inspection and Mold making.
David Costa has been with Tessy for over six years working in the tool rooms while attending Onondaga Community College for 1st and 2nd level Machining classes. He has completed online classes through NTMA for Metallurgy and Blue Print Printing. In addition, David received a Moltrax Certification in Hot Half Repair, Mold Maintenance & Strategy, Texturizing Design and Repair.
Tyler Perkins has been working in the Tessy tool rooms for over seven years while completing college courses in Calculus, Statistics, and Linear Algebra. Tyler has pursued his Mold making career academically through classes at Onondaga Community College for Level 1 & 2 Machining, Manufacturing Processes & Metallurgy.
Tessy recognizes that skilled trades are crucial to the sustainability of the company and is preparing for the future by investing in this particular workforce. In recognition of this crisis, New York State through the Department of Labor (NYS DOL), is supporting businesses statewide by providing Millions of Dollars for Apprenticeships by offering to supplement wages through the use of grants (up to $15,000/yr. per apprentice) and tax credits ($2,000-$7,000/yr. per apprentice).
Additionally, SUNY schools are offering $5,000 grants for related classes, books and fees ultimately covering the majority of the college credits to support this effort. "Having completed a 4-year apprenticeship of OJT (On the Job Training) and academics a journey worker will have a solid foundation in skill sets much in demand and without any school debt. Our future and the standard of living in New York are dependent upon us taking action now. Tessy partnering with the NYS Department of Labor is pleased to step forward in this opportunity and to make a difference in and for our country," said Weishaar.
The NYS DOL has been greatly supportive in this process as they have provided various resources and tools to bring the Apprenticeship program to life at Tessy. Each apprentice will not only be state certified in tool making, but will also be federally certified by the United States government. "I am excited and honored to partner with Tessy Plastics Corp in their new mold maker apprenticeship program as their Apprenticeship Training Representative with the New York State Department of Labor. It is a great opportunity for apprentices to earn an income while they learn a trade and for employers to develop and retain highly skilled employees. Apprenticeship training is growing in New York State, and employers, employees, and the community as a whole benefit from apprenticeship opportunities just like this. I look forward to assisting Tessy Plastics Corp and the apprentices to ensure they have a positive experience and a successful program," said Melissa Gale NYS DOL Apprenticeship Representative.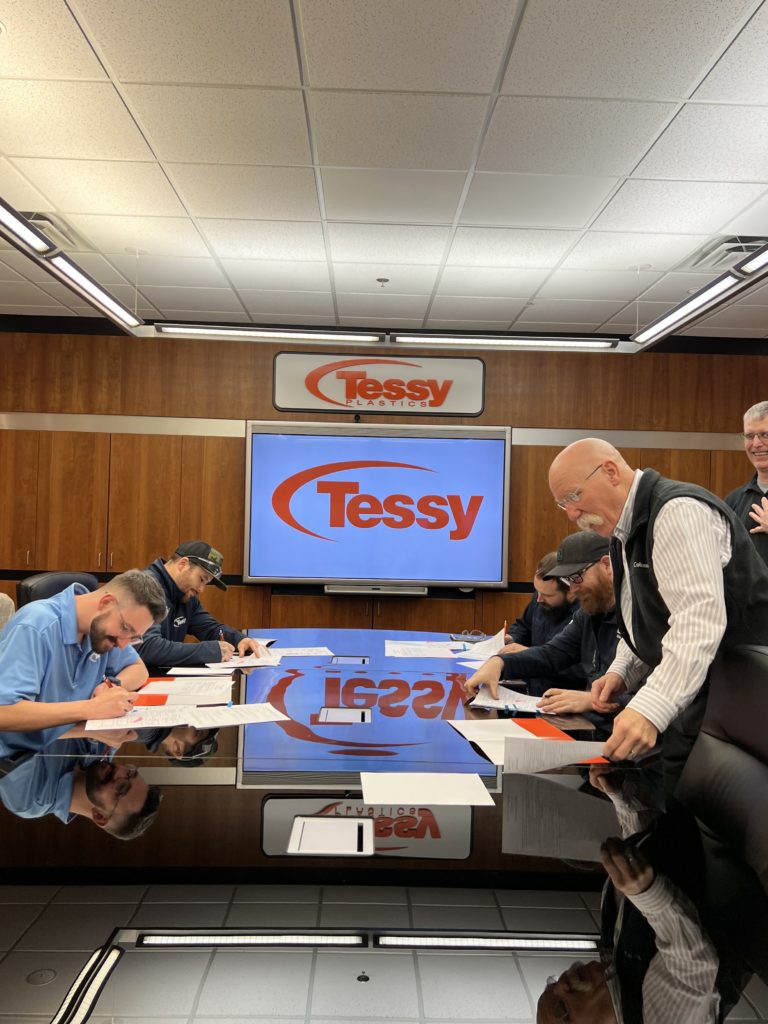 # # #
About Tessy
Founded in 1973, Tessy Plastics is a global contract manufacturer headquartered in Skaneateles, NY, specializing in injection molding and custom automated assembly solutions. We have facilities in New York, Pennsylvania, and China. All of our facilities are FDA/GMP compliant and add up to more than 3.2 million square feet, including 306,000 square feet of ISO Class 7 & 8 clean room manufacturing. Through comprehensive engineering and research & development, we provide superior quality and speed to market. Contributing to the Medical, Pharmaceutical, Diagnostics, and Consumer Healthcare and Consumer markets allows us to leverage our expertise over a wide range of products. Our capabilities include product design & development, rapid prototyping, tool design & build, medical automation design & build, plastic injection molding, and complex medical & consumer device assembly.
Share: