Technical Manufacturing
Designing and manufacturing for unparalleled accuracy
Using state-of-the-art lab equipment and quality control techniques with expert chemists, our team takes great care to practice and test the most accurate pharmaceutical and diagnostic products and molecular solutions. With multiple labs running in various facilities, we have the ability to process different raw material and chemical verification tests simultaneously in climate-controlled rooms for isolation. We're committed to saving you time, and decreasing production costs, while upholding our high standard of accuracy.
Laboratory, Pharmaceutical, and Medical Device Filling Capabilities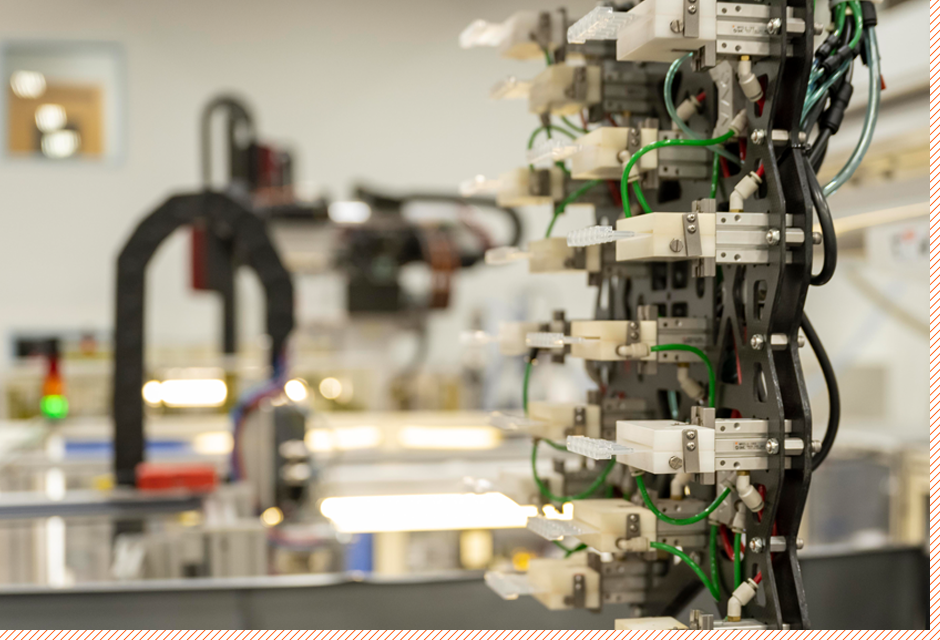 Pharmaceutical and Diagnostic Medical Manufacturing Capabilities
Tessy has expert chemists and technical manufacturing staff available to work on your pharmaceutical and diagnostic manufacturing needs. Not only do we process, test, and prepare the incoming raw chemical materials, we also introduce and fill the materials into complex high-speed medical assemblies for fully finished and packaged medical products.
Technical Manufacturing Highlights:
Lyophilization Capabilities
Cycle development and optimization
Custom dispense/fill
Large scale freeze drying
Analytical Quality Assurance
Thermogravimetric Analysis (TGA)

Thermal stability measurement of materials including polymers
Measurement of moisture present in lyophilized materials

Spectrophotometer

Accurate quantification and qualification of RNA, DNA and protein
Contaminant detection and identification

Osmometer

Rapid detection of sample osmolality
PCR – TPM or CMO with customer provided specifications
Process
Dispense
Lyophilize
Bulk Solution Preparation
Buffer solutions (aqueous based)
PH adjustments
Conductivity measurements
In-house Ultrapure (Type 1+) Water Systems
Molecular Grade Water
Deionized, Reverse Osmosis Water
Water quality testing
Sterile Manufacturing
4 ISO 8 certified cold rooms
3 ISO 8 certified clean rooms
2 ISO 8 certified laboratories
Additionally, Tessy manages top-of-the-line laboratory equipment for:
Incubators
Centrifuges
Temperature and humidity controlled storage