Injection Molding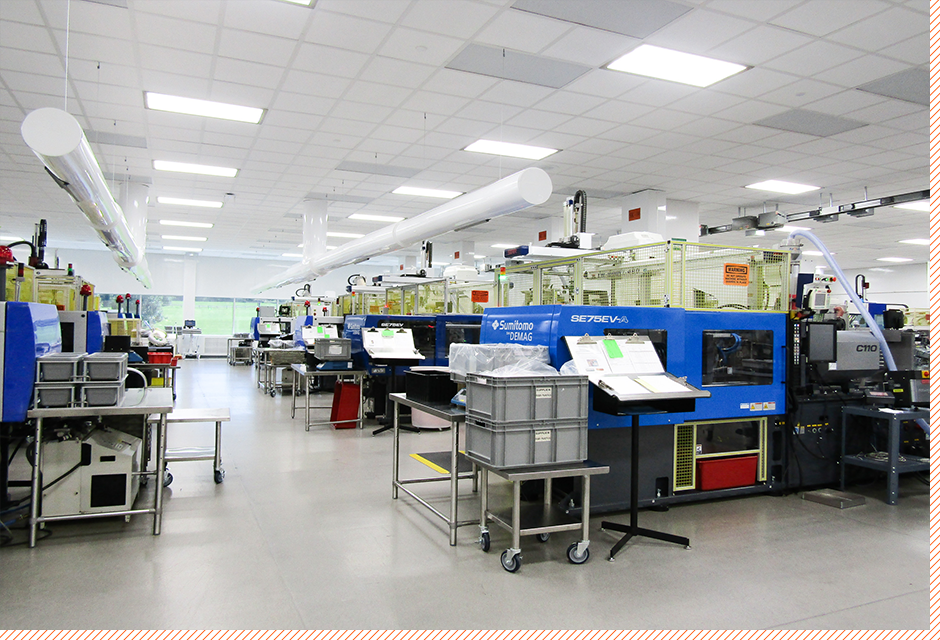 We offer various injection molding technologies including traditional injection molding, micro, insert over molding, 2-shot, cube, stack, needle-over molding, vertical molding, gas assist, in-mold labeling, and liquid silicone rubber. With over 400 injection molding machines including various cavitation capabilities, we are able to provide custom manufacturing solutions for any product in the Medical, Pharmaceutical, Diagnostics, or Consumer markets.
Our machines range from 3 tons up to 720 tons with available capacity in all press size ranges. We partner with best-in-class molding machine manufacturers in the world.
Leveraging the latest technology in the industry is a core competency here at Tessy. When it comes to tight tolerance micro molding, we're the experts. We have over 40 micro molding machines throughout our facilities for a wide variety of applications. Our micro molding capabilities include:
Ability to mold tolerances down to .0005 total and +/- .001 routinely
Shot weights as small as .07 oz.
Horizontal and vertical molding
Micro press integration into automated assembly equipment
Insert over molding
Tessy is also an industry leader in high volume Liquid Silicone Rubber (LSR) manufacturing. We are quickly approaching 10 LSR injection molding machines running production with an annual quantity of parts over 200MM units. To support LSR programs, we provide:
Mold cavitation up to 64
High precision dosing systems
R&D development support for LSR replacement testing of legacy materials – including polyisoprene
Integration into automated assembly lines with proprietary part feeding systems
Our strategic partnerships allow us the ability to provide the best press for the application based on your needs and ensuring we are always leveraging the latest technology. Whether it be a tight tolerance micro-molded medical product or a high-volume consumer good, we've got you covered.
Design to delivery and everything in between is what we do best. We bring the upfront design and innovation to the forefront and implement custom molding and assembly solutions for your product.
We differentiate ourselves with creative solutions by combining any number of the above technologies to provide our customers with the best quality, delivery, and total value for any program.